Vyve's fiber-powered network is in

Shawnee

,

OK
Display Name
$9999.99*
*per eon for 1 millennia
Amazing! Can't believe I haven't done this before.
Display Name
$9999.99*
*per eon for 1 millennia
Amazing! Can't believe I haven't done this before.
Display Name
$9999.99*
*per eon for 1 millennia
Amazing! Can't believe I haven't done this before.
*Prices include $5 autopay discount
*per month for 6 months for 105 Mbps Packages and 3 months for 200 and 500 Mbps packages
*per month for one year for Vyve Gig Package | Details and Limitations
Offer ends 12/31/2023 and is limited to new residential customers. Not available in all areas. Vyve provides residential customers with hybrid fiber coaxial internet and, in certain areas, fiber to the home internet. Price shown includes $5/mo autopay discount in addition to a rate discount. The autopay discount only applies if customer enrolls and keeps autopay current. Additional charges apply for installation (except in the case of online orders, autopay sign up, or Vyve Gig Service), equipment (except in the case of Vyve Gig Service), taxes and fees, including, without limitation, regulatory recovery fees. Such charges and fees are subject to change during and after the promotion. Savings based on rate card pricing. After 6 months (after 3 months in the case of 200 Mbps and 500 Mbps and after 12 months in case of Vyve Gig service), or if any service is canceled or downgraded, the rate discount will be removed and regular rates will apply. There will be a 2.5% card fee assessed on all payments made with a card. Payments made by ACH transfer or check will not be assessed this fee. Other than with respect to equipment charges and the initial 30-day guarantee, payments are nonrefundable and there are no refunds or credits for any partially used monthly periods. May not be combined with other offers. Internet: Lease of a modem or purchase of an approved modem required (except the modem is included in the case of Vyve Gig Service) for Internet service. Actual speeds vary and are not guaranteed. Data allocation based on speed plans: 25 Mbps = 1000 GB, 105 Mbps = 1000 GB, 200 Mbps = 1500 GB, 500 Mbps = 2000 GB, Vyve Gig = 2000 GB. The maximum possible download speed for our 'Gig' service is 960 Mbps; we typically deliver download speeds ranging from 870-930 Mbps and upload speeds of up to 50Mbps. Speeds based on wired (not wireless) connections. Subject to data plan (except in the case of Vyve Gig Service) and usage restrictions. The Affordable Connectivity Program is a federal initiative that enables Vyve Broadband to provide a monthly discount towards broadband service of up to $30 per eligible household (or up to $75 per eligible household on Tribal lands). The benefit is limited to one monthly discount per household. Vyve Broadband is participating in the ACP and will provide the monthly discounts described above on certain of its broadband access plans to eligible households, but will not offer the one-time device discount on desktops, laptops or tablets as part of its ACP. If the ACP's funds are exhausted and Congress does not appropriate any additional funds, participants will be subject to Vyve Broadband's undiscounted rates and general terms and conditions unless they later notify Vyve Broadband of their desire to cancel the service. Credit check and deposit may be required. Call for other restrictions and complete details. By enrolling for this benefit, customer agrees to the terms of Vyve's Residential Services Subscriber Agreement, Acceptable Use Policy, and other customer agreements available at http://www.vyvebroadband.com/policies. The use of any third-party trademarks in connection with our company or products is not and does not suggest an endorsement, authorization or sponsorship of our company or products by any such third party. All trademarks and service marks are property of their respective owners. ©2023 Vyve Broadband. All rights reserved.
Some eero features require linking your Amazon account, and downloading the Alexa application or using a compatible Alexa device. Internet connection speeds and availability depend on the current internet speed you have with Vyve Broadband; if Vyve Broadband does not provide you with the maximum supported speed, you will not experience that maximum speed. Maximum network speeds, if applicable, reflect combined supported speeds across wired and wireless clients. Maximum wireless signal rates are derived from the IEEE 802.11 standard. Specifications assume wired Ethernet connection; your experienced speed may vary when connected to an eero device that is configured as a wireless extender. Coverage estimates are based on normal use conditions. Actual range and performance can vary, and maximum supported speeds may not be available to all customers, due to factors such as local regulations (including power limits), network configuration, interference, connected devices, device usage, building materials, and obstructions. See https:// eero.com/legal for more details regarding terms for eero products, software and services. For more information about eero performance, visit support.eero.com
©2023 DIRECTV. DIRECTV and all other DIRECTV marks are trademarks of DIRECTV, LLC. All other marks are the property of their respective owners.
Affordable Connectivity Program
FREE* or discounted fast Internet powered by Vyve's Fiber-Powered network could be yours!
Apply to see if your household qualifies for discounted or even free fiber-rich Internet from Vyve Broadband through the Affordable Connectivity Program.
Whole-Home WiFi from eero™
Get more from your Internet with maximum Internet speed and connectivity all through your home thanks to award-winning eero™ Mesh WiFi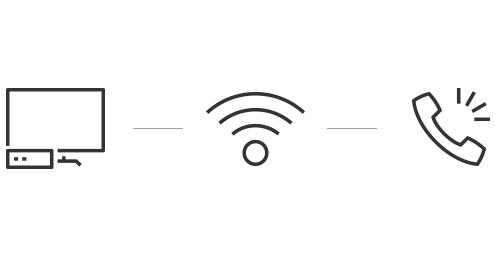 The more you Vyve, the more you save!
Give us a call for exclusive discounts and no-contract Vyve packages.
There's fast.
There's really fast.
Then there's Vyve Ultimate Gig.
Vyve gives you more, and with Vyve Gig we give you the most. From free installation and unlimited data to eero™ Pro 6 whole-home WiFi, get the most out of your Internet with Vyve Gig.
$79.99

/month*