SHAWNEE, OK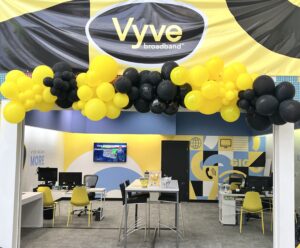 Vyve Broadband is proud to announce the grand opening of our brand-new retail store concept in the heart of Shawnee, Oklahoma. The inauguration ceremony occurred on September 6, 2023, with Vyve employees and distinguished guests in attendance, including Mayor Ed Bolt, Shawnee City Commissioners, and representatives from Shawnee Forward, including their Ambassador Members.
Andy Parrott, President and Chief Operating Officer of Vyve Broadband, emphasized the importance of remaining at the forefront of innovation while maintaining strong local ties, saying, "More than ever, staying relevant and keeping your brand up to date is essential. But it's also important to have a local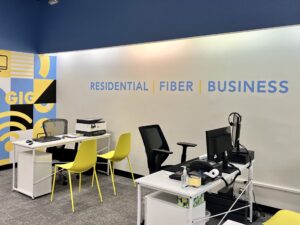 presence and have easy access for our customers. Shawnee is one of our flagship markets, and we want to keep them on the cutting edge of technology."
This new store concept comes as a result of an unforeseen and devastating challenge that our community faced on April 19, 2023, when an EF2 tornado struck Shawnee. Vyve's retail location and office building were affected and became temporarily unusable. In response, Vyve Broadband sprang into action and, within just three days, established a temporary location within the Shawnee Mall.
Rather than letting this unfortunate event deter us, we saw it as an opportunity to enhance our services. The new Vyve Broadband store at the Shawnee Mall offers a host of conveniences for our valued customers. Here, they can easily pay their bills, facilitate equipment returns or exchanges, receive answers to their questions, and explore new services.
One of the most exciting additions to our store is the interactive displays that allow customers to experience Vyve Gig Internet, HDTV, and home phone services firsthand. In addition, we are delighted to announce our partnership with DIRECTV, providing our customers with a seamless option to integrate streaming TV into their Internet service. This flexibility lets families choose the shows, live sports, networks, and local channels that best suit their preferences.
Vyve Broadband remains committed to serving the Shawnee community with cutting-edge technology and personalized service. We invite everyone to visit our new store at the Shawnee Mall and experience the future of broadband services firsthand.